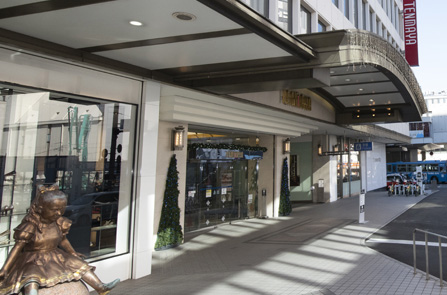 boasting a history spanning back 190 years Tenmaya is a respected, Okayama-original department store loved by local residents. This convenient shopping destination offers everything from leading brands from around the world to Okayama Prefecture's own fruit, cosmetics, clothing, daily goods, and food. Tenmaya also offers one-stop tax exemption counters (5F and BF) that cover not only the department store but also some 30 stores in nearbyOmotecho Shopping Street, making it easy for visitors to receive their tax exemptions for all their shopping all at once.
Credit cards,cash cards and QR code payment that can be used

<Cosmetics>
Find more than 20 famous cosmetic brands from Japan and overseas.
Shiseido Cle de Peau Beaute, SK-II, DECORTE, THREE, POLA, etc.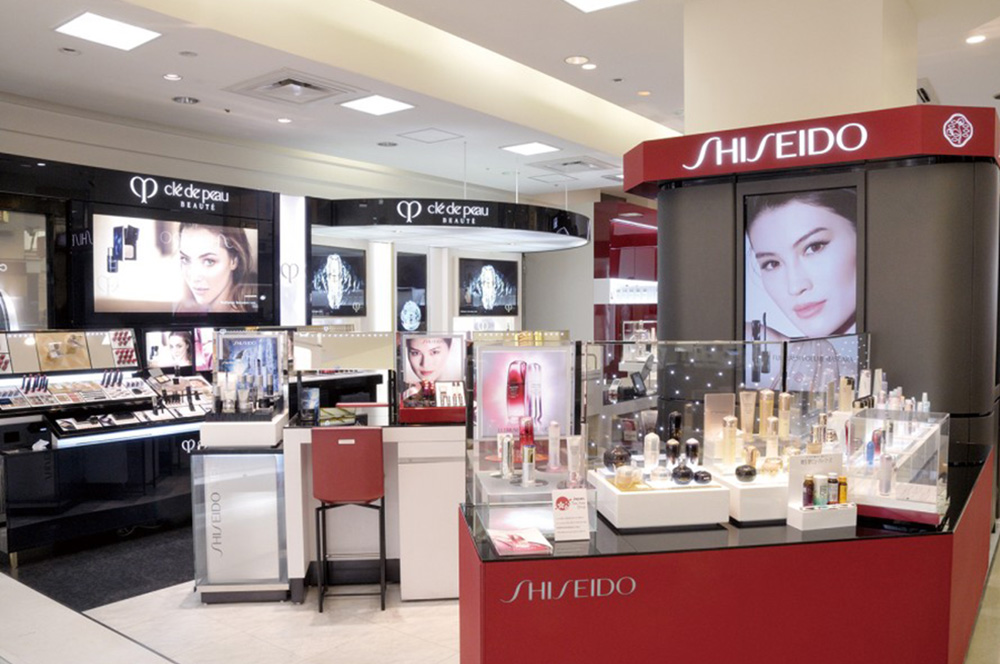 <Jewelry>
A variety of Japanese brands representing Japanese quality such as MIKIMOTO and SEIKO, and world-famous brands are available.
SEIKO, MIKIMOTO, etc.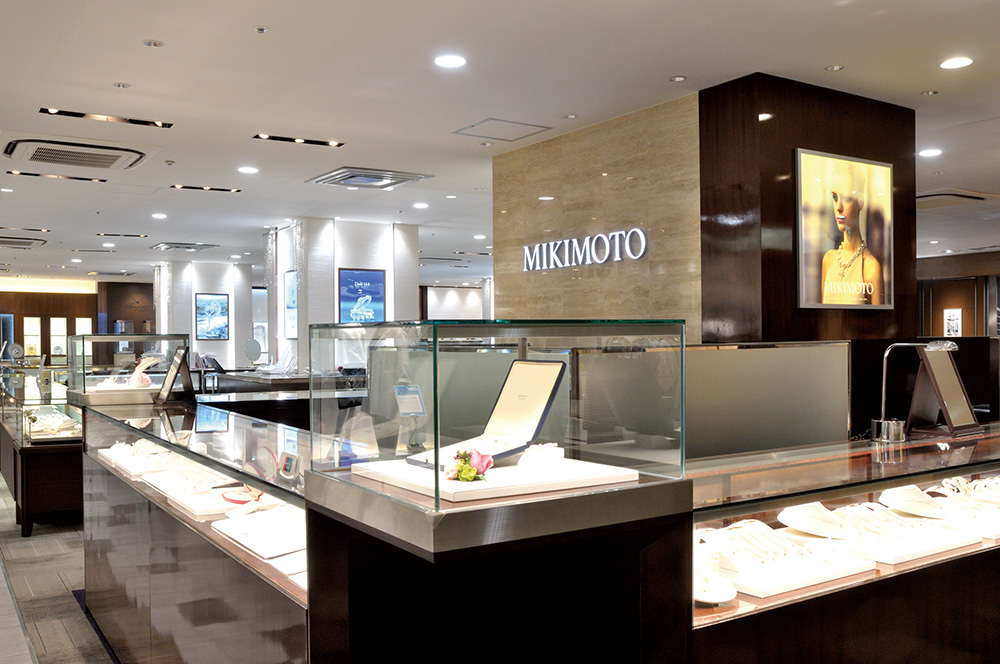 <Fruits>
Okayama is known as the "Sunny Country" because of its warm climate. We are also known as the "Fruit Kingdom", where various delicious fruit such as white peaches,
Muscat grapes, and Pione grapes are harvested. The fresh fruit parfait is very popular.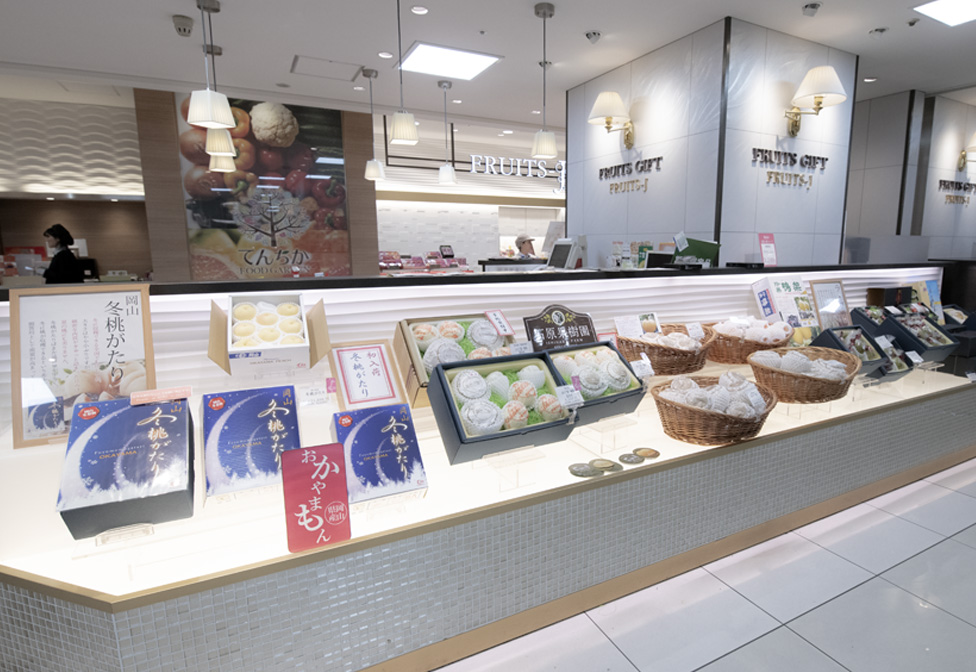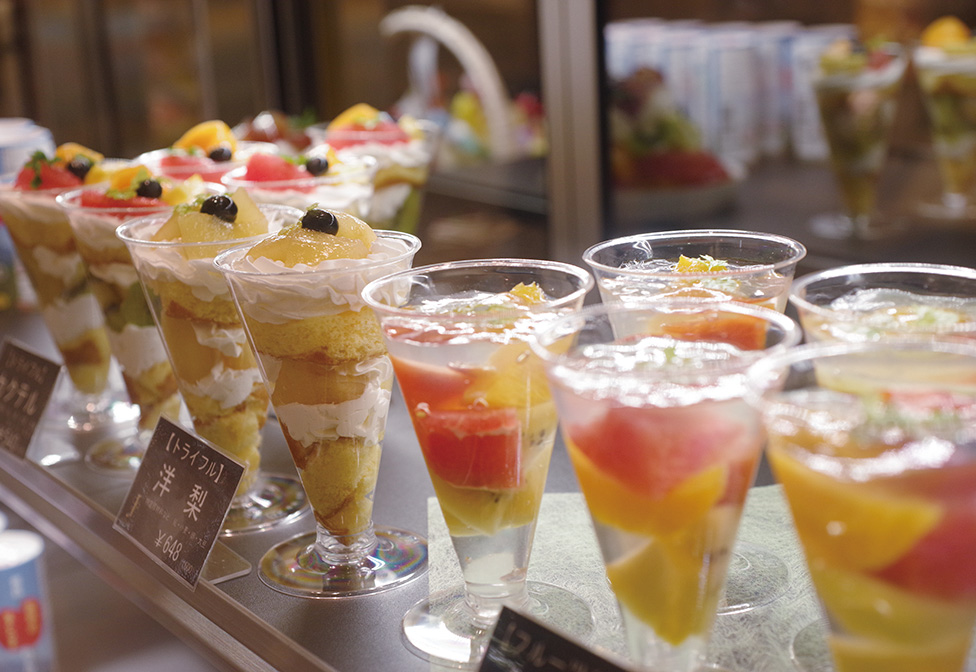 Cosmetics
cle de peau BEAUTE

The secret to glowing, healthy skin? Our new self-(skin)care Key Radiance Care Ritual. The best ingredients meet cutting-edge Japanese technology and ultimate luxury. Empower your skin in easy, yet effective, steps.
Products that benefit all ages, skin tones, and types. With continued, daily use, this routine is the key to beauty wellness.

The Serum(50ml) ¥27,500
Hydro‐Softening Lotion n(170ml) ¥12,650
Protective Fortifying Emulsion n(125ml) ¥13,200
Intensive Fortifying Emulsion n(125ml) ¥15,400
COSME DECORTE

Moisture Liposome 60 mL ¥14,850 40 mL ¥11,000 Apply this serum after washing your face to experience an amazing moisturizing effect. 0.2 μm diameter microcapsules of phospholipid penetrate the stratum corneum, and make dry skin moist, smooth and firm. Decorte's No. 1 moisturizing toner "Moisture Liposome" is recommended for all women who are concerned about dryness, dullness, and rough skin, etc.
POLA

B.A Lotion
120ml
¥22,000
A rich treatment lotion that instantly nurtures your skin and creates a firm, smooth complexion.
Jewelry
MIKIMOTO

Pearl necklace
Since successfully cultivating pearls in 1893, MIKIMOTO has reigned as Japan's top jeweler creating unwavering beauty.
The high-quality materials, traditional delicate techniques, and sophisticated designs have opened the doors to Japan's modern jewelry history, and brought true elegance for the world.
LONGINES

Record collection
Men's: L2.820.4.11.6
Ladies: L2.320.4.11.6
Men's: ¥277,200
Ladies: ¥256,300
Authentic Swiss watchmaker with a tradition of history extending more than 180 years.
Grand Seiko

Heritage Collection
SBGH205
¥682,000
Japan's premiere manufacturer of Made in Japan watches.
Sweets
Koeido Honten

Kibi Dango Dumpling
10-piece set
¥432
"Kibi dango dumplings" are a favorite gift from Okayama. The chewy texture is popular.
Komoyo

Hareruno Matcha
5-piece set
¥648
Enjoy the bitterness and flavor of matcha with this popular local manju dumpling.
Bashoan

Dried Sweets
1 piece
¥76~
Colorful sweets represent the seasons of Japan.
Enjoy Japanese sweets having a sophisticated sweetness and gentle texture.
Sozai Side Dishes
Ginza Hageten

Tempura
Enjoy tempura from the famous "Ginza Hageten", one of Japan's finest tempura restaurants. Freshly prepared tempura features seasonal ingredients filled with umami flavor.
Yozushi

Sushi
Nigiri 8-piece set
¥1,080
Photo shows Tokujo Special Nigiri ¥2,700
The Seto Inland Sea, where Okayama is located, has strong currents that bring rich nutrition and bait, making. The fish caught here is delicious, with firm flesh and strong umami. Enjoy "Nigiri Sushi" made with delicious fresh fish from Okayama.
Fukuran

Sukiyaki Lunch Box
One serving
¥1,001
Osozai deli shop produced by a long-established meat shop in Okayama. Osozai dishes and bento lunches, including kushi-katsu, sandwiches, and sukiyaki lunch box, are prepared with select ingredients.
Sake, Wine
Muromachi Shuzo

Kyoku-daiginjo MUROMACHI JIDAI
720 ml
¥5,500
MUROMACHI JIDAI is made of 100% Omachi rice, and has been awarded 1st place at various international Liquor Contests, such as MONDE SELECT.
Funao Winery

Muscat of Alexandria Sparkling Wine
720 ml ¥3,750
Muscat of Alexandria is praised as the queen of fruit.
Large Muscat grapes, of the highest quality, create a sharp yet refreshing taste in this rare and extravagant wine.
Asahi Shuzo

DASSAI 23
720 ml ¥5,830
Featuring ultra-polished "Yamada Nishiki", known as the king of rice for Japanese sake.
Enjoy the delicate aroma and stunning length of finish.
Fruit
FRUITS-J

Shimizu White Peaches (from Okayama Prefecture)
Shimizu White Peaches from Okayama Prefecture are rare, being harvested only in two weeks during the peak peach season of mid June to late August. They are beautiful in appearance, delicate and soft, and have a sophisticated sweetness and fragrance. Enjoy the "Queen of Peaches", the ultimate of various peach varieties.
FRUITS-J

Muscat of Alexandria
Pione
(from Okayama Prefecture)
<Muscat of Alexandria> Okayama Prefecture grows 90% of this fruit in Japan. With a yellowish-green skin and high sugar level, it has an exquisite balance of Muscat's unique fragrance and sweetness. These high-quality grapes are often called the "Queen of Fruit" as even Cleopatra enjoyed eating them.
<Pione> Okayama Prefecture is Japan's leading producer of the black grape called Pione. Seedless, with a high sugar level, perfect balance of acidity and rich taste. These grapes with a beautiful appearance and taste can grow up to 20g per grape.
FRUITS-J

Bottled Fruit
(White peach, Muscat) (Grown in Okayama)
200 g
Shimizu white peach, Pione grape ... ¥1,296
Muscat of Alexandria ... ¥1,728
Fruit is harvested during peak season, carefully skinned by hand, and preserved in syrup so it can be enjoyed throughout the year. Enjoy the melt-in-your mouth texture of Shimizu white peaches, the slight acidity of large Pione grapes, and the gentle sweetness and unique aroma of Muscat grapes.
Living
House of Rose

Boxtree brush ¥3,190
Boxtree comb ¥1,650
Boxtree comb with handle ¥2,200
Use traditional Japanese hair grooming items made of boxtree wood soaked with camellia oil to help hair from drying out
Imabari Towel Chateau

Face towel ¥2,200
Mini bath towel ¥3,300
Bath towel ¥6,600
Towels from the Imabari region, blessed with a gentle climate and high-quality soft water. These towels boast Japan Quality, with a high absorbency and the finest extra-long staple cotton.
All prices are tax inclusive.

Floor Index
7

F

Activity Center
6

F

Children's wear
Maternity wear
Toys
Post office
MiKi HOUSE
SANRIO
POLO RALPH LAUREN
familiar
5

F

Household items Art gallery/kimono Spectacles Tax refund counter
WEDGWOOD
ROYAL COPENHAGEN
Richard Ginori
Baccarat
4

F

Men's wear Golf
apparel
Travel items
POLO RALPH LAUREN
Paul Smith
EMPORIO ARMANI
dunhill
3

F

Women's wear
Jewelleries
MIKIMOTO
PLEATS PLEASE ISSEY
MIYAKE
2

F

Women's wear
Bags
Coffee shops
POLO RALPH LAUREN
Paul Smith
agnes b.FAMME
1

F

Women's accessories
Cosmetics
Stores for overseas brands
Gucci
TIFFANY&Co.
Bottega Veneta
Salvatore Ferragamo
TOD'S
COACH
Tory Burch
SHISEIDO
SK-Ⅱ
COSME DECORTE
B

F

Foods
YOKU MOKU
GODIVA
SAISON FACTORY
Omotecho Branch
Stores for overseas
brands Furniture/Home
appliances,
Tour agency
BVLGARI
HUNTING WORLD
MICHAEL KORS
SWAROVSKI
WATCH GALLARY
Watches
ROLEX
Cartier
Breguet
Chopard

Free Wi-Fi

ID/PASS CARD
Tax-free counter on underground or 5F Information Center on 1F
*There are restrictions as to areas where Wi-Fi is available
Cool locker
Coin-operated refrigerator Fees: ¥100 per day (tax included)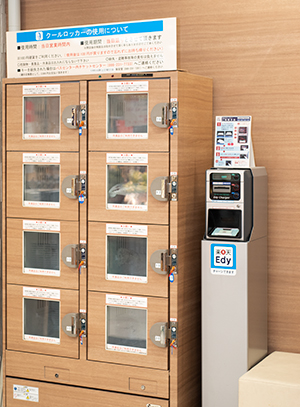 Tax-free
Tenmaya offers a one-stop tax exemption service that covers all purchases from various shops throughout Omote-cho Shopping Street.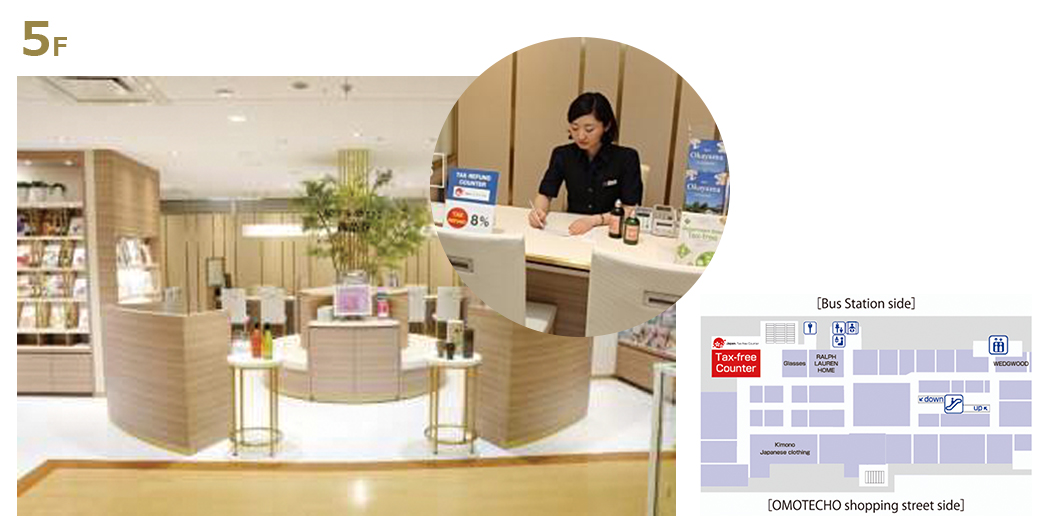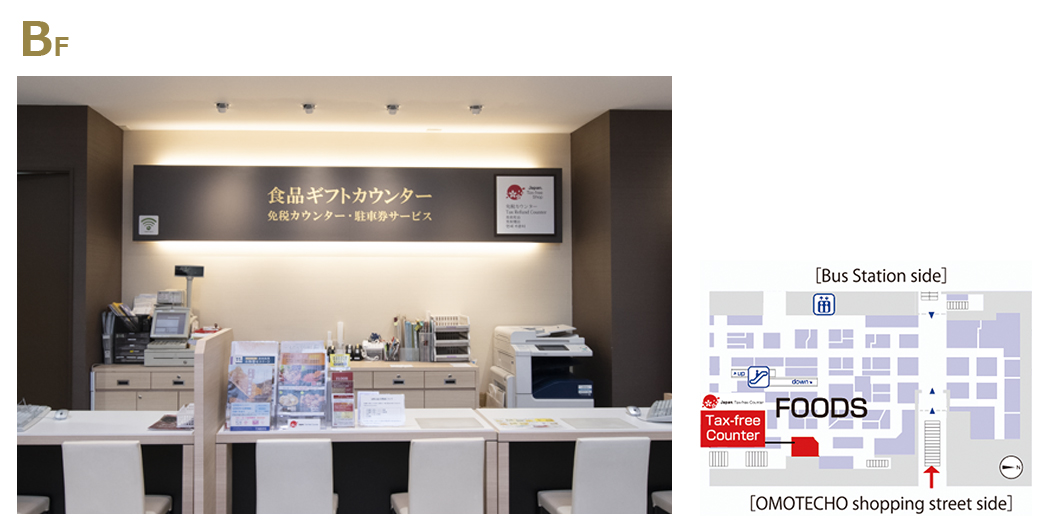 Applicant
Non-permanent residents of Japan
(cannot apply on behalf of others)
Application Period
Within the operating hours on the day of purchase
Requirements for
Tax-free products
<General Goods>
Goods like clothes, bags, watches and jewelleries
*Goods that are brought out of customs personally
<Consumer Goods>
Goods like cosmetics, perfume, food

| | General Goods | Consumer Goods | General Goods + Consumer Goods |
| --- | --- | --- | --- |
| Applicable amount | over 5,000 JPY | over 5,000 and up to 500,000 JPY | over 5,000 and up to 500,000 JPY |
| Special packaging | × | ◯ | ◯ |
| Used in Japan | ◯ | × | × |
| Take out of Japan | ◯ | within 30 days | within 30 days |

Usage
For personal usage (not for commercial use)
Documents required
to apply for
tax refund

Receipt for the day's purchase(s) (handwritten receipts are not accepted)
Passport (immigration stamp must be present and photocopied version is not accepted)
Credit card(s) used for purchase(s) (for those who paid via credit cards)
* The name on credit card, receipt and passport must match
Purchased goods


*Japanese who are not permanent residents of Japan must provide documentation for overseas residence (such as visa or driver license)
*Diplomatic officials stationed in Japan must offer the duty-free cards in their own name
Method of refund
Refund through cash (yen)
Refund locations
5F or underground
Other remarks
●Expenses for meals and transportation are not included in the Tax-free scheme
●If customers were to use the goods (that has applied for tax refund) in Japan, consumption tax will be collected upon emigration
●As each country has its own quarantine protocol, some goods may not pass the customs clearance in your country, hence please check the list for your own country
Access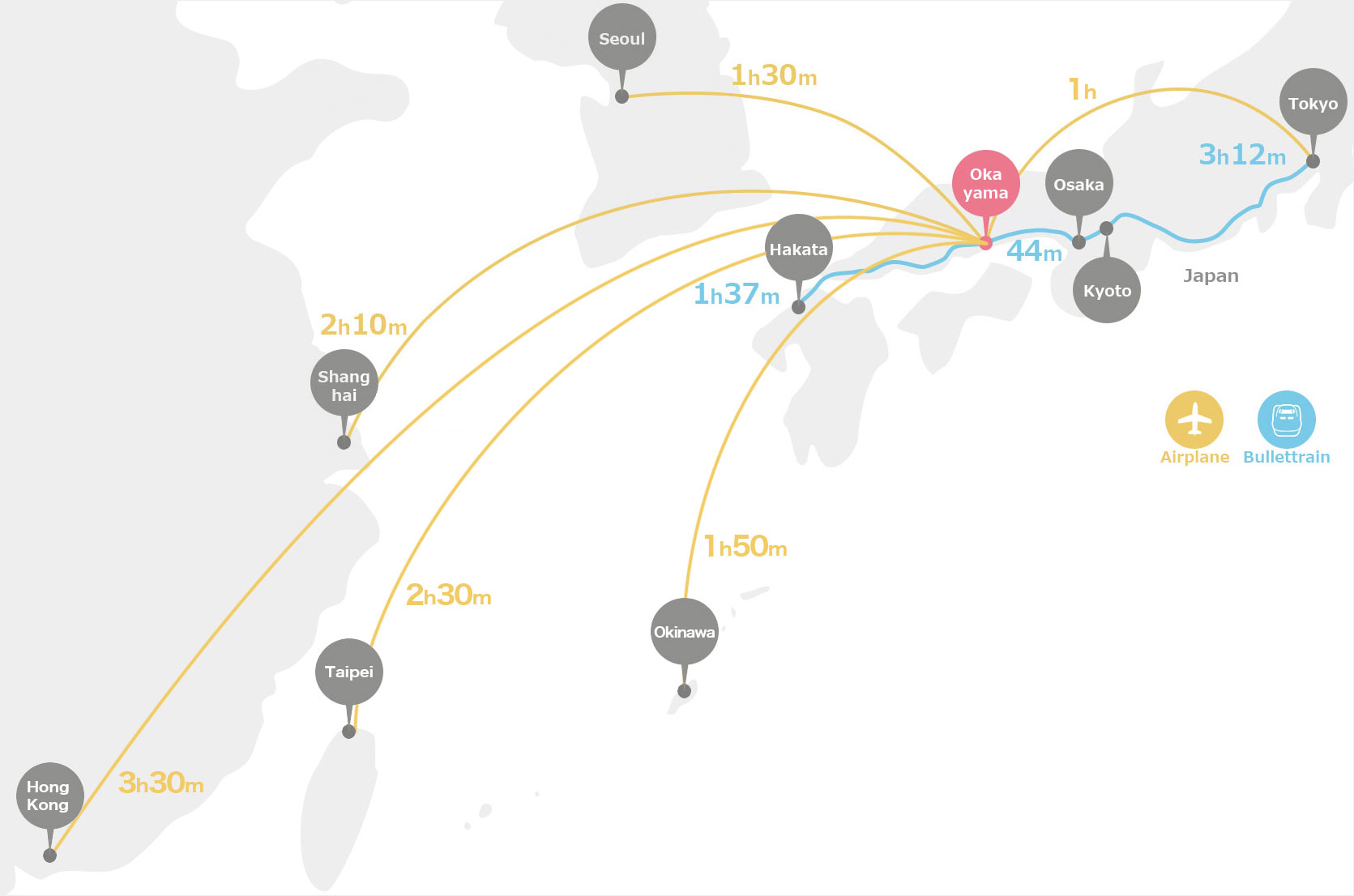 AirPlane[ From Okayama Airport / Kansai Airport ]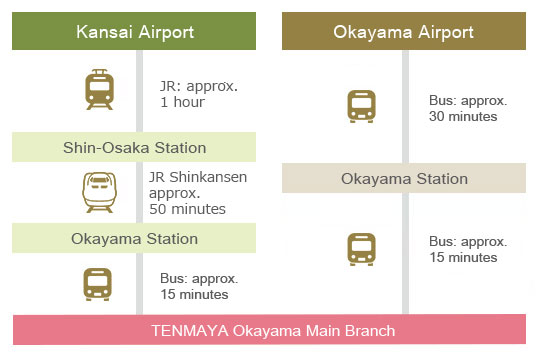 Transport site
Airport
Train
The official homepage will be translated in english, chinese, and korean using a private automatic translation service.
Please note that as it is a machine translation from an automatic translation system, the translation may not always be accurate.
Also note that after the translation, the content may not be same as in the original japanese page.